Accreditation Helps Deliver Optimum Education for Physicians and Quality Care for Patients at Abu Dhabi Medical Center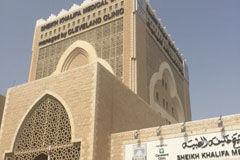 SEHA is a phonetic transcription of the Arabic word for health, and excellent health can be attained by delivering optimum care to the public.
That's why the Abu Dhabi-based Sheikh Khalifa Medical Center (SKMC), the flagship institution for the SEHA system of hospitals and clinics across the United Arab Emirates, sought to ensure that its education programs for residents and interns at the teaching hospital meets the highest of standards.
After an intensified search for an international accreditation body, SKMC selected ACGME-I to conduct a rigorous, comprehensive, and collaborative review process.
"We always knew we had great programs of internship and residency at our institution," said Dr. Maha Al Fahim, chair of Education, DIO, and program director of the family medicine residency at SKMC. "However, we lacked the structure and methodology to measure our successes and the contributions of our faculty.
"As the accreditation process unfolded, a wave of excitement developed across the institution as program directors, faculty, coordinators, and residents became invested in developing charts, lists, project records, and other information to make sure we met the accreditation requirements," said Dr. Al Fahim. "And the support from higher administration was unwavering."
Dr. Al Fahim lauded the ACGME-I staff for thoroughly interpreting standards and assisting with the accreditation steps. "The process immediately enhanced the structure of the training programs and improved effectiveness of the faculty," she said.
SKMC received its ACGME-I accreditation in September 2012, and the designation now plays a major role for the institution in accomplishing its mission of delivering services of the highest medical quality at levels comparable to the finest health care systems in the world, according to Dr. Al Fahim.
"Health care regulation and clinical governance require most – if not all – of the clinical services to develop training programs and gain accreditation after it is demonstrated that standardized training goes hand-in-hand with standardized clinical practice and patient care," she explained. "With ACGME-I accreditation, patients can be totally confident they receive thorough and comprehensive care at our teaching hospital."
Such accreditation offers benefits to the educators, as well. Dr. Al Fahim noted the endorsement assures an effective learning environment, using proven international standards, is in place for residents.
"And, for me as an educator, accreditation means that my skills will continue to improve and the resources required for the success of the program will be provided by the institution," she added.
"ACGME-I accreditation may appear at first to be quite a challenging undertaking," Dr. Al Fahim said. "However, the smooth process and, most critically, the outcomes, quickly make this an extremely worthy investment."